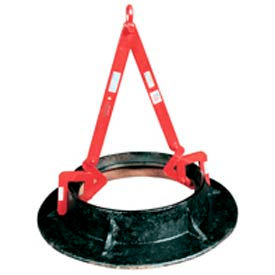 Caldwell Manhole Sleeve Lifters
Grabs Easily Attach To Cast Manhole Sleeves For Quick Installation.

These unique lifting attachments offer a quick and easy way to maneuver and place cast manhole sleeves. Lifter easily attaches to and releases from the load. Two Leg model works great for standard rounds, or use the Three Leg model for different sizes and shapes. Heavy duty steel construction and clamps have a durable enamel finish. Meets ASME B30.9 & B30.20 standards.