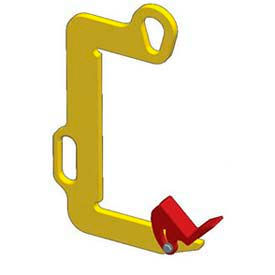 M & W Coil Lifters/Upenders
M & W Coil Lifter/Upenders Secure Heavy Wire Coils In Warehouses, Garages And More.
M & W Coil Lifter/Upenders are constructed of heavy duty steel for long lasting durability and dependability. Attach to lifting devices or hoists in the handling and transporting heavy wire coils. Lightweight for easy handling yet more durable than web slings. Designed to lift and rotate coils from a horizontal to vertical position. Include built-in handhold for safety when positioning coil. Available in
1000, 2000, 4000 and 7000 lb.
load capacities with
13, 16, 18 and 20 inch
throat depth and
17, 20, 23.1 and 26.3 inch
head room. Equipped with RFID tracking chip and manufactured to exceed all ASME B30.20 and OSHA regulations.
Click here for illustrated drawing.