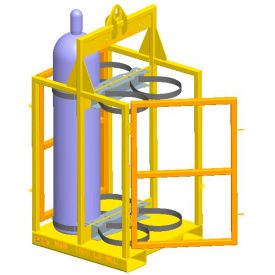 M&W Cylinder Bottle Lifters
M&W Cylinder Bottle Lifters Lift and Transport Gas Tanks On Job Site Or In Manufacturing Facility.

M&W Cylinder Bottle Lifters are made with a powder coated steel construction to provide long lasting durability and workplace safety. Individually proof loaded per OSHA requirements and shipped with certification paperwork. RFID tracking chip equipped and manual close, lockable doors for secure storage and identification. Lifters effectively keep gasses in one location and can be quickly moved as needed. Adjustable straps hold tanks in place during transport for added safety. 2-Way Fork Entry provide optimum performance. Cylinder Bottle Lifters w/Lifting Eye and Fork Pockets available for 2 or 4 cylinders. Weight capacities are 750 and 1500 lbs. Color is Yellow. Manufactured to exceed all ASME B30.20 and OSHA regulations. Dimensions vary per model.