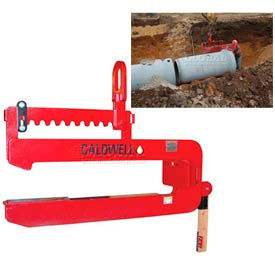 Caldwell C-Hook Pipe Lifters
These Industrial Pipe Lifters Provide A Quick And Efficient Way To Pick And Replace Precast Concrete Pipe.

C-hook pipe lifters handle up to 8'L sections of precast concrete pipe. Pipe lifters eliminate the need to dig a hole under the pipe, increasing productivity. Multiple lifting points allow handling of a variety of pipe lengths. Bail is designed to remain upright for easy attachment. Pipe lifter can be easily hooked and attached to hoists, cranes and forklifts. All welded steel construction. Replaceable non-skid urethane saddle prevents pipe from slipping off. Meets ANSI/AWS D14.1 requirements, as well as ASME B30.20 and BTH-1 2008 standards.