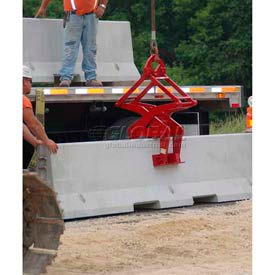 Caldwell Barrier Grabs
Barrier Lifts Provide A Quick And Easy Solution To Lifting And Setting Concrete Barriers!

Barrier grabs offer hands-off operation and reduce damage to barriers, as there is no need to attach lifting chains or slings. Can be easily hooked and attached to hoists, cranes and forklifts to facilitate transportation of concrete barriers. Grabs will handle barriers with 6" to 12" nominal width at the top of the barrier. Helps increase productivity and eliminates the need for drilling holes in barriers. Barrier grabs are made with all welded steel. Industrial barrier lifts include replaceable urethane pads for unpainted surfaces. Meets ANSI/AWS D14.1 welding requirements, as well as ASME B30.20 and BTH-1 2008 standards.

Optional steel "Dog Points" are available for painted surfaces.