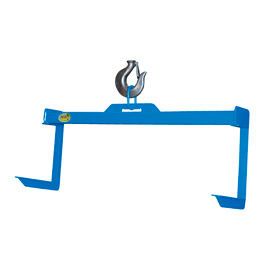 Bar Stock Material Positioners
The overhead bar-stock material lifter includes two adjustable-width lifting arms for a wide range of applications. Lifting arms are adjustable in 6" increments along the entire span of the positioner and have an 18" usable height with a 12" usable length. Arm features a 5° inclined design for material retention. Bar lifting attachment includes an adjustable lifting bale to help level the load. All-welded steel construction with a durable powder coat blue finish.

Additional Lifting Arms may be ordered as required.