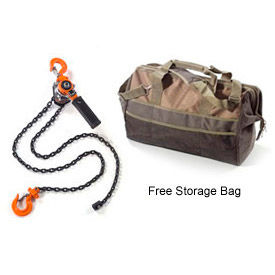 Manual Lever Chain Hoists
Includes Free 12 Pocket Storage Bag.

These compact lever hoists are designed for single hand operation in confined spaces. The short handle stroke on these manual hoists require minimal effort and the freewheeling neutral position speeds load attachment by quickly taking up slack. The completely enclosed Weston-type automatic brake provides positive load control. Chain hoists feature drop forge hooks with deformation indicators on throat openings, 360° swivel heads and have safety latches. Strong grade 80 alloy steel chain. Meets ASME B30.21 specifications. 1 Year Limited Warranty.