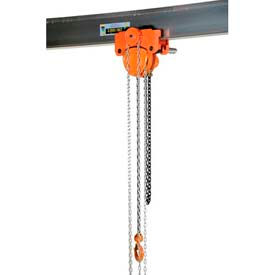 Low Headroom Hoist & Trolley Combos
Low Headroom Hoist and Trolley Combos Are Designed For Locations Where More Headroom is Needed.

Low headroom hoist and trolley combos feature a compact design, which accommodates for low ceiling heights. Manual hand chain hoist is suitable to raise and lower the hook a full 10' of travel. Both the hoist and trolley are constructed of heavy duty industrial steel with a durable enamel finish for lasting durability and support. Standard Trolleys offer free-floating movement along the I-beam. Geared Trolleys feature a chain gear drive for precise trolley/hoist positioning. Most models feature hanging chain length of 10 feet. Weight capacities range from 1,000 to 30,000 lbs. depending on the model. Beam widths up to 11-13/16". Other dimensions and additional specifications vary per model.