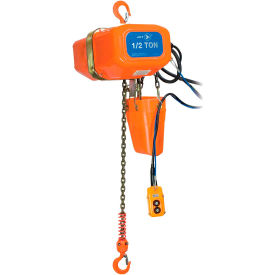 Jet® Electric Chain Hoist
Jet® Chain Hoist FA Series Electric Single Speed 1PH or 3PH.

Jet® Chain Hoists Electric Single Speed chain is heat treated, case hardened low wear chain surpassing ISO Class T. Each model includes a chain collector bucket. Reliable electro-magnetic DC brake engages automatically when power is cut off. Two button pendant controls automatically returns to OFF mode when either button is released. 24 volt pendant control for operator safety in damp or humid conditions. Strain relief cable protects electrical connections with top and bottom safety hooks designed to bend slowly to warn of overloads. Upper and lower limit switches protect hoist from damage if load or chain stop contacts body. Gear train and electrical components completely sealed for use outdoors (cover recommended). Modular construction of motor, gear train, and brake assembly allows for quick and easy maintenance. Single phase hoists are equipped with automatic overload protection present to 110% of rated capacity and three phase hoists feature reverse phase protection. Meets ASME B30.16, CSA, and OSHA standards.