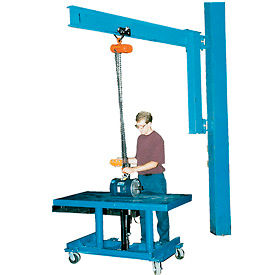 Wall Mount Jib Cranes for Low Ceilings
Wall Mount Jib Cranes Assist Workers In Maneuvering Materials And Achieve Maximum Headroom In Areas With Low Ceilings.

These cantilever style jib cranes mount to vertical wall members to help increase personnel productivity by lifting awkward materials. Overall I-beam length is 92 with a usable length of 80 . Jib crane measures 48 H from under I-beam to bottom of frame and 57 H overall.