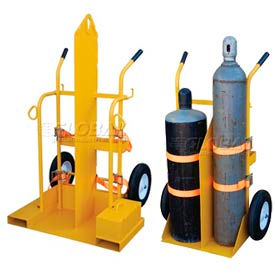 Welding Cylinder & Torch Carts
Welding Cylinder and Torch Carts are designed for Secure Transport of Welding Cylinders, Torches and other Materials.

Welding Cylinder and Torch Carts are solidly manufactured for long lasting durability and dependability. Cylinder Carts securely handle and transport welding supplies in a single trip. Features sturdy tubular steel frame construction, safety holding straps or chains, cushioned Pneumatic or Foam-Filled wheels for easy mobility and maneuverability and other brackets and compartments for holding torches and welding necessities. Dimensions vary per model.

Choose the Correct Welding Cart for your Job:

Carts with Lockable Storage Box offer storage for regulators. Storage Box includes a hose opening so that the regulator does not need to be disconnected for storage.

Carts with Lifting Eye are for overhead crane lifting. Lifting Eye is 2" diameter and 7/16" thick.

Carts with integral Fork Pockets allow transportation with a forklift. Usable size of each fork pocket is 7-½"W x 2-½"H on 32" centers.

Carts with Fire Protection include a ½" thick Marinite I material which provides a 30 minute fire protection barrier as prescribed by OSHA standards 1910.253 and 1926.350.