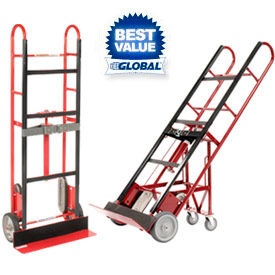 Professional Appliance Hand Trucks
Professional Appliance Hand Trucks Transport Large Equipment and other Materials for Industrial and Commercial Applications.

Professional Appliance Hand Trucks are made of high quality materials for long lasting durability and dependability. Trucks are designed for handling and transport of large equipment including refrigerators, washing machines, and more. Handle design allows convenient maneuverability and balanced control. Ratchet assembly with nylon belt secures the load for easy transport. Low friction continuous belt Stair Climbers allow ergonomic stair accessibility. Available types are 2-Wheel and 4-Wheel. Weight capacities range from 600 to 1800 lbs. Dimensions vary per model.