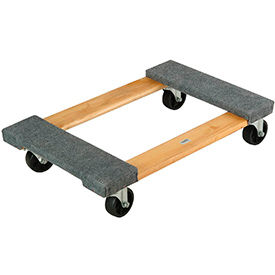 Carpeted Deck Hardwood Dollies
Carpeted Deck Hardwood Dollies Provide Ergonomic Material Mobility in Commercial, Industrial, and Distribution Environments.

Carpeted deck hardwood dollies provide load stability and abrasion resistance. Four swivel caster wheels allow ergonomic mobility transport control. Select models include a full thick carpeted base body for reducing load imprints. Available wheel types are Hard Rubber, Polyolefin, and Rubber. Weight capacity range is from 800 – 1,500 lbs. Dimensions and additional specifications vary per model.