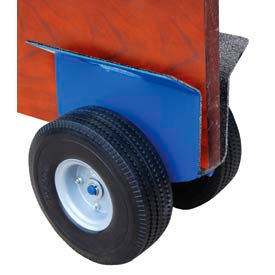 Plate & Slab Cradle Dollies
Heavy-Duty Plate Dolly Offers An Auto-Clamp Feature To Safely Hold Loads.

These slab dollies have a unique design that grabs the load when weight is added; the heavier the load, the tighter the plate clamping force. Maximum channel width is 4"W. Interior channel of dolly is finished with Line-X® polyurethane/polyurea coating to provide a superior impact and corrosion resistant surface to protect cargo. Dollies have twin handle holes for easy carrying and offer place to hook a strap if required (strap not included). Choice of wheel types to best suit your work environment. Strong steel construction has a durable powder coat finish. Shipped fully assembled.