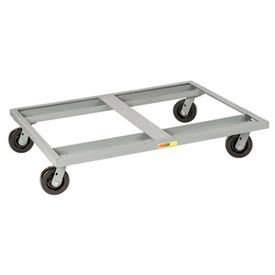 Pallet Dollies - Caster Style
Caster Style Pallet Dollies Provide Transportation of Large Heavy Materials in Garages, Workshops, Industrial, and Commercial Environments.

Caster style pallet dollies are designed to support large loads of material stock. Dollies are available with Open Decks or Solid Decks, with a variety of handle and brake combinations. Aluminum or steel construction provides lasting durability. Capacities range from 2000 - 3,600 lbs depending on the model. Wheel diameters are 5" or 6". Wheel types are Phenolic and Polyurethane. Dimensions and additional specifications vary per model.