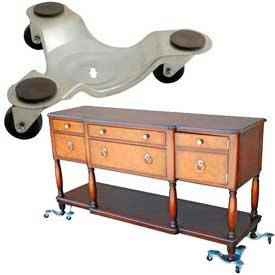 Portable Furniture Leg Dollies
Portable Furniture Leg Dollies Allow Heavy Duty Content Mobility, Maneuverability, and Transport for Moving Companies, Warehouses, and more.

These Dollies are designed for moving furniture with legs. Simply place a dolly under each leg of the furniture or equipment and it's ready to be moved. The center cup securely holds the leg in place during transport. The top of each dolly features three non-slip foam discs to protect the cargo. Each dolly features 3 rubber swivel casters that offer easy movement. Durable steel construction features a scratch-resistant enamel finish.