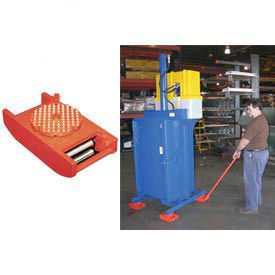 Wesco® Machinery Mover Roller Dollies
Wesco® Machinery Moving Dollies provide a Quick, Easy and Safe Way to Move up to 15 Tons.

Wesco® Machinery Mover Roller Equipment Dollies have precision ground hardened steel rollers that revolve around a central load bearing plate in the annealed ductile iron frame creating a low friction moving method, requiring less power to start and move. Machinery Transport Dollies eliminate unsupported overhang that ordinarily exists on axle-supported carriers. Designed to roll over rough and cracked floors easily, reducing the possibility of damaging goods. Shipped ready to use. Swivel Top Plate rotates 360° to allow turning of the load within its own length, and offers a locking mechanism that can be engaged at 45° intervals so that load can be precisely positioned. Machinery Mover Kit includes (4) 2000 lb. capacity Movers, (2) 36"L Steering Handles and a FREE Tool Box for storage. Optional Steering Handle assists with positioning and steering the Machinery Moving Dollies. Optional Turning Bar assists with rotating the top plates used on swivel top Machinery Movers. Lengths vary per model.