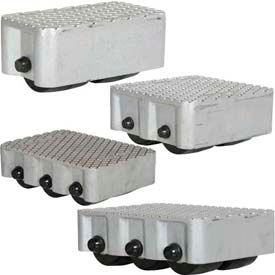 Cast Aluminum Propel Dolly
Cast Aluminum Propel Dolly is a Lightweight Machine & Crate Dolly that Moves Heavy Loads.

Cast Aluminum Propel Dollies feature a box-type aluminum frame with integral sides for extra strength. A deeply fluted top load surface offers maximum cargo grip. Low-profile 4-¼"H Dollies have 3-½" diameter x 3" wide phenolic rollers suitable for heavy crates and machinery.

Note: Except when used individually, corners should be navigated by lifting the load and rotating each Dolly individually.