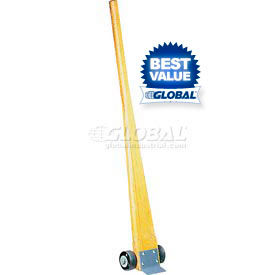 Lever Dollies - Pry Bars with Wood Handles
Lever Dollies - Pry Bars With Wood Handles Provide Lifting Leverage For Heavy Duty Applications Including Commercial, Industrial, Distribution, and more.
Lever dollies - pry bars with wood handles use leverage to lift heavy duty loads, equipment, and machinery for easy transport. Lever handles are made of strength-tested hardwood, capable of lifting up to a 5000 lbs. weight capacity. The iron and steel lifting plates are bolted to the lever handle making them both strong and durable for the heaviest working environments. The roller bearing wheels are designed to move heavy loads over rough surfaces for user ease. Dollies are typically used in pairs for user convenience.
Wood handles
Iron and steel lifting plates
Roller bearing wheels
Available types are Mold-On Rubber, Plastex, Polyurethane, Polyurethane on Steel, Semi-Steel, Solid Hard Rubber, and Steel
Weight capacities are 1000, 3500, 4200, 4250, and 5000