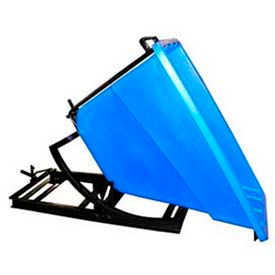 Self-Dumping Plastic Forklift Hoppers
Self-Dumping Plastic Forklift Hoppers Provide Easy Access, Mobility and Elevated Dumping.

Self-Dumping Plastic Forklift Hoppers are made of polyethylene for durability. Single user operation allows convenience and easy handling. Pull release safety latch operates dump process. Tilts up to 40° below horizontal and automatically returns to upright, locked position when empty. Welded tubular steel frame and fork pockets provide added dependability. Caster Base style allows added mobility and maneuverability. Optional Hinged Lid secures contents and reduces odor. Meets OSHA requirements. Types include Caster Base and Forklift Base. Cubic Yard Capacities range from .625 to 2.2. Capacities are 750 lbs., 1000 lbs., 1200 lbs. and 1500 lbs. Available color finishes are Black, Blue, Gray, Green, Red and Yellow. Dimensions vary.