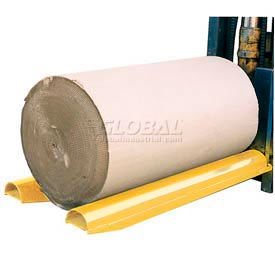 Round Forklift Fork Extensions
Round Fork Extensions are designed for handling Unique-Shaped Products.

Round Fork Extensions easily attach to forklifts to transport rolls and other similarly shaped products. All steel forks include a welded loop to allow easy, tool-free installation to forks. Includes warning and operating stickers for safety. Highly visible yellow powder coat finish. Sold in pairs.

NOTE: Extension width is 1/2" greater than fork width.

NOTE: OSHA requires contacting the manufacturer of your truck for written approval for the use of any forklift truck attachments.

NOTE: OSHA regulations state that the length of the fork extensions may not exceed fork length by more than 50%.