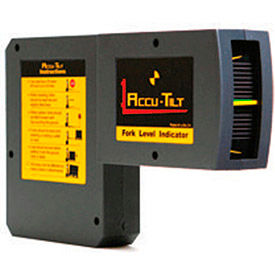 Ideal Warehouse Accu-Tilt Forklift Fork Tilt Level Indicator
Ideal Warehouse Accu-Tilt Fork Level Indicator helps Reduce Damage and Increase Safety & Productivity.

Improperly aligned forks can cause a lot of damage and this unique device helps eliminate the guesswork of whether the forks are at the correct angle when entering a pallet or skid. The Ideal Warehouse Accu-Tilt shows the forklift operator the level of the forks at all times, reducing the risk of the forks piercing products or damaging pallet racking. The unit also indicates the angle of the forks when traveling or parked, or any angle required for your specific operation. Fork tilt level indicator helps eliminate fork binding, compensates for ground level or tire wear, and helps decrease the training time for new fork lift operators. The Accu-Tilt can be mounted on the left or right side of the mast on any counterbalance forklift truck in less than 2 minutes without tools, and does not need any calibration or adjustments.