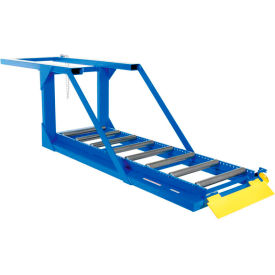 Dock-Pro™ Below Dock Loader
Dock-Pro™ Below Dock Loader is designed for Easy Loading of Vans & Pickup Trucks at Dock Bays.

Anybody who moves heavy packages from a warehouse to a waiting van or pickup understands how difficult this process can be. The Dock-Pro™ Below Dock Loader is a forklift attachment designed to load and carry material from the loading dock to a truck parked below. It effectively changes loading procedures and time, increasing productivity and reducing the risk of injury. Easy to use, the Loader is adjustable to any dock height and features 5-½"W x 2-½"H forklift fork pockets. Safety restraint is included for securing loader to the forklift. Loader includes a manually operated stop to secure the load during transport, and front end of the Loader features a rubber bumper for added protection. All steel construction features a durable blue enamel finish.

Custom sizes and designs are available; please call for more information.

Note:
Loader extends 96" horizontally in front of the dock.
Maximum product loading height is 30" below dock height.
Maximum load size is 93"L x 38"W x 30"H.
Loads are conveyed with 2-½" diameter rollers on 12" centers.