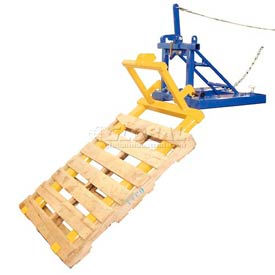 Forklift Pallet Dumper
Dump Loaded Pallets without Leaving the Seat of your Fork Lift.

The Pallet Dumper is a device that attaches to a forklift allowing pallet contents to be dumped into a secondary container. The unit slides onto the forks and the fork ends feature retainer brackets to prevent the pallet from sliding off. Skid dumper includes a cable release that can be activated from the cab for convenience and when dumping is complete, simply lower the unit to the ground until the carriage latches. Dumper will tilt a maximum of 90° to fully drop the load. Dumper includes a safety chain to fasten to the carriage. All-welded steel construction with a durable powder coat finish.