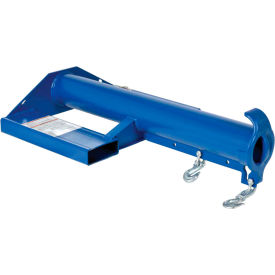 Shorty Forklift Jib Boom Cranes
Shorty Forklift Jib Boom Cranes are Perfect for use in Tight, Restricted Space Areas.

"Shorty" Forklift Jib Boom Cranes include integral fork pockets, safety restraint and 2 hoisting hooks (one swivel, one rigid). Heavy duty robotically welded steel construction features a durable chip-resistant enamel finish.

** "S" Dimension is the dimension from the center to center of the fork tine sleeves.

NOTE: OSHA requires contacting the manufacturer of your truck for written approval for the use of any fork truck attachments.