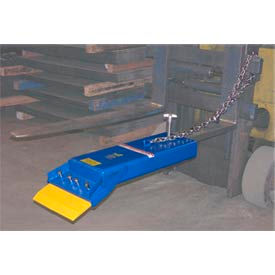 Forklift Truck Floor Scraper
Forklift Truck Attachment is designed to Turn Your Forklift into a Floor Scraper.

Forklift Floor Scraper is great for use in paint and finish rooms to remove over sprayed paint from floors. Made of heavy duty welded steel, simply slide the forks into the openings and attach the safety restraint to the carriage. Fork mount Floor Scraper features a hardened scraping blade for long life and strength. 12"W blade is mounted in a pivot assembly to allow it to raise up with contact against a crack or a rise in the floor. Fork pockets measure 9-1/4"W x 3-1/4"H. Measures 36"L x 13"W x 8"H overall.