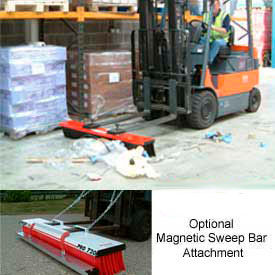 SweepEx® Forklift Mount Brooms, Sweepers & Magnetic Bar Attachments
SweepEx® Fork Mounted Sweepers offer Low Cost and High Performance in any Indoor or Outdoor Commercial Environment.

SweepEx® Forklift Mount Brooms help increase productivity and reduce clean-up costs. Great for docks, warehouses, trailer floors, parking lots, job sites and supply yards. Forklift Broom attachments sweep up various types of dirt and debris including gravel, steel shavings, light snow, material spills, standing water, mud and more. These Forklift Sweeper Attachments mount easily to standard fork tines. Removable polypropylene brush sections offer easy maintenance and replacement. Powder coat finished frame. 1 Year Limited Warranty.

ValuSweep has 5 rows of 8" bristles in a one-piece solid aircraft extruded aluminum frame and is perfect for light-duty operation. Fits on forklift forks up to 5"W.

Pro Broom has 8 rows of 11-½" bristles in a 10 gauge steel frame for heavy-duty indoor/outdoor use. Fits on forklift forks up to 8"W.

Mega-Broom has 11 rows of 11" bristles and works well sweeping lumber yards, construction sites, nursery yards, job sites, roadways, parking lots, recycling, and industrial plants.