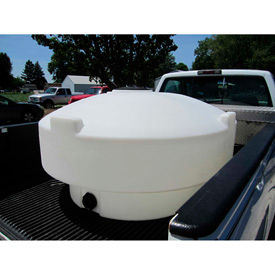 RomoTech Pickup Truck Storage Tanks
RomoTech Pickup Truck Storage Tanks are designed for Hauling Water and Chemicals using a Pickup Truck.

RomoTech Pickup Truck Storage Tanks are constructed from FDA approved food grade virgin polyethylene plastic that is perfect for storing and transporting water in the bed of a full-size Pickup Truck. Tank is designed to rest between and over the wheel wells, maximizing space. Storage Tank is safe for transporting water, fertilizer, and spray chemicals with a specific gravity of 1.7 or less, excluding flammable fuels or volatile hydrocarbons. Linear low-density polyethylene (LLDPE) material offers good abrasion and impact resistance, and has ultraviolet (UV) inhibiting stabilizers for years of service. Four tie-down lugs on the top of the Tank help to safely restrain the Tank in the Pickup Truck bed or on a Flat-bed Truck. Each Truck Tank includes one 12" top fill with cap and lanyard, one 2" drain bung in the rear of the Tank accessible from the tailgate, and gallon/liter graduations on the sidewall for volume.

Note: If a Liquid is ruled to only be stored in Glass Containers, then these Tanks should never be used to store that Liquid. Any Liquid approved to be stored in Plastic Containers would be suitable to the stored in these Tanks.