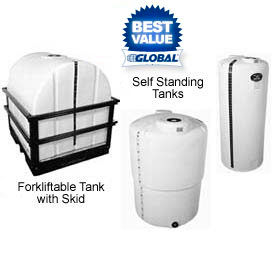 Hastings Polyethylene Storage Tanks
Hastings Polyethylene Storage Tanks store Acids, Corrosives and Non-Hazardous Liquids including Foodstuffs and Potable Water.

Hastings Polyethylene Storage Tanks feature a one-piece, heavy-duty seamless construction with UV inhibitors and anti-oxidants for durability and strength. Translucent walls with gallonage indicators permit easy liquid level reading. Long life outlet fitting and filler cap have E.P.D.M. gaskets for maximum chemical resistance. 140° Instantaneous Fluid Temperature; 120° Sustained Fluid Temperature.

Self-Standing Storage Tanks have a 6" filler diameter and a 1-1/2" or 2" NPT outlet. Outlet Plug is not included.

Forkliftable Tank with Skid provides a very low center of gravity for stable forklifting and transporting. Constructed with heavy gauge steel side channels and wood floor. Includes fill cap and a 2" pipe female coupling outlet.