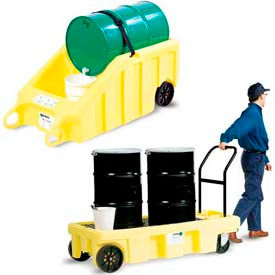 Poly Drum Spill Dollies & Carts
Poly Dollies & Spill Carts are used for Easy and Trouble-Free Transporting of 55 Gallon Drums.

Poly Dollies & Spill Carts are made of polyethylene for long lasting durability. Dollies offer u-shaped Barrel platform and looped strap for easy loading. Lightweight design and grip handles make for easy tipping. Spill Carts transport 55 gallon Drums, 5-gallon Pails, paint cans and other materials. Eliminates risk of spills during transport with a large sump capacity. All models include easy rolling wheels and an ergonomic design for easy and trouble free mobility. EPA, SPCC and NPDES certified. Capacities are 500 lbs., 600 lbs., 1250 lbs., and 2000 lbs..