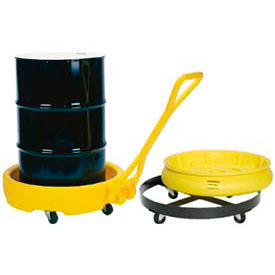 Drum Bogies & Trays
Drum Bogies & Trays Catch and Contain Spills and Leaks, as well as provide Easy Mobility.

Drum Tray is ideal for use under Drums where dispensing or filling takes place to catch incidental spills or leaks. Holds (1) 30 or (1) 55 gallon Drum, or use with grating (included) for 5 gallon Containers and Batteries. 10 gallon spill capacity.

Drum Bogie provides secondary containment for incidental spills and drips that often occur during vertical dispensing applications. Features easy-rolling casters.