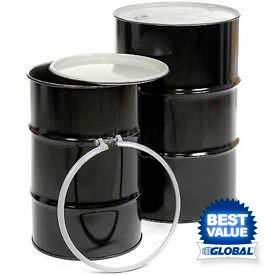 Global Industrial™ Closed & Open Head Steel Drums
Skolnik Closed and Open Head Steel Drums Securely Contain Hazardous and Non-Hazardous Materials for Storage and Transport.

These steel drums feature a corrosion resistant interior for corrosive material handling. Durable Drums comply with Title 49, Code of Federal Regulations and are UN approved.

Open Head Drums feature a removable top, EPDM "D" gasket and a 12 gauge bolt ring.
Closed Head Drums have 2" and 3/4" bung openings, one for filling and one for venting.

Drums with a Chemical-resistant Epoxy Phenolic Lining are also available.