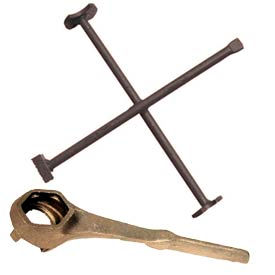 Drum Bung Plug Wrenches
Drum Bung Plug Wrenches allow Ergonomic Plug and Bung Removal for Steel or Plastic Drums in Industrial Applications.

Drum bung plug wrenches allow ergonomic plug and bung removal for steel or plastic drums. Angled or offset handles minimize injury and increase leverage. Non-sparking feature accommodates flammable materials for safety. Styles include Drum Bung Wrench and Universal Spoke Drum Wrench. Construction materials include Aluminum, Brass, Bronze, Glass Reinforced Nylon Plastic, Solid Ductile Iron, Steel, Zinc Aluminum Alloy and more. Dimensions vary per model.