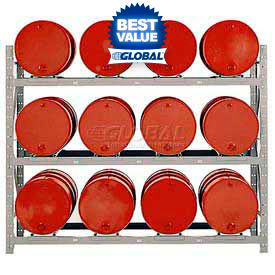 Drum Pallet Racks
Drum Pallet Racks hold 30 or 55 gallon Drums in a Horizontal Position for Safe Drum Storage.

Drum Pallet Racks are made with structural 3'' all-welded steel frame uprights with 1'' x 1'' x 3/16'' steel bracing. 3'' steel channel beams have 5000 lb. capacity per pair and adjust on 2'' centers. Adjustable 12'' wide Drum Cradles rest securely on beams. Gray enamel finish.

Units include 2 end frames, 3 or 4 pairs or beams, and 12 to 16 Drum Cradles (depending upon Model being ordered).