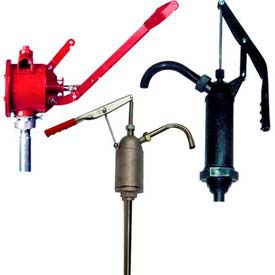 Lever-Action Drum Pumps
Lever-Action Drum Pumps Accommodate Liquid Distribution From Drums For Construction, Material Handling, Mechanical Environments and more.

Lever-action drum pumps dispense fluids by manual force. Pumps are lightweight for ease of operation. Telescoping suction tube provides easy access to high or low levels of fluids. Available Wetted Materials are Aluminum, Aluminum Zinc/Brass/Steel/Viton, and more. Dispensing rates vary per model.