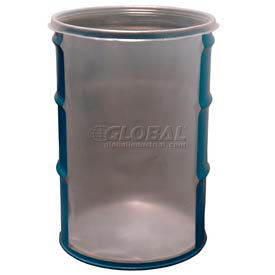 CDF DrumSaver™ Steel Drum Inserts
Save Valuable Time Cleaning Steel Drums by using CDF DrumSaver™ Drum Inserts.

CDF DrumSaver™ seamless, vacuum-formed Drum Liners have a contoured lip that snaps over an Open Head Steel Drum's top bead, preventing leakage between the Insert and the Drum wall. Straight-sided Liner features a band of accordion pleats at the top of the Insert allowing closure using standard ring and bolt or lock assembly. Insert is molded from FDA approved low-density polyethylene for durability, and fits new and reconditioned Drums, including Drums with follower plates. Inserts can also be used when rolling Drums. Perfect for mixing, pumping and storing nearly any liquid, powders and pastes including chemicals, inks, adhesives, greases, paints, coatings, silicones, and food. Temperature resistant from -40 to 175°F. Sold in case quantities of 20 inserts.