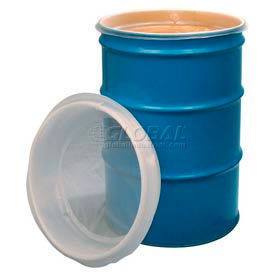 CDF EZ-Strainer™ Drum Strainers
CDF EZ-Strainer™ Drum Strainers Keep Unwanted Particulates Out of Drums.

CDF EZ-Strainer™ Drum Strainers lie on the top of any 55 gallon Open Head Steel Drum, allowing valuable material to be poured through while removing debris and particulate matter. Strainers can be used to remove debris from paints, coatings, adhesives, silicone, ink and any other liquid that needs to be particle free, and are great for cleaning parts over a Drum by placing the parts in the inset and capturing the cleaning solution in the Drum below. Patented lip ensures the Strainer stays in place, and can be used with or without a Drum Liner. Strainer Insert is molded from high molecular weight, high-density polyethylene with a 200, 400 or 600 micron multi-element mesh center screen. Temperature resistant from -20 to 180°F. Sold in case quantities of 15 Strainers.