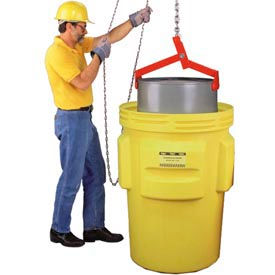 Salvage & Overpack Drum Lifters
Strut Channel 80/20 Brackets Accommodate Loading and Unloading Drum Operations.

Salvage Drum lifters are designed for fast loading and unloading of closed head steel drums into overpacks by tightly gripping under the top. Units work with an overhead hoist or a hook from forklift. Variety of types available to meet job requirements. Steel, carbon steel and stainless steel construction for lasting durability. Weight capacity limit is 1000 lbs. Additional specifications vary per model.