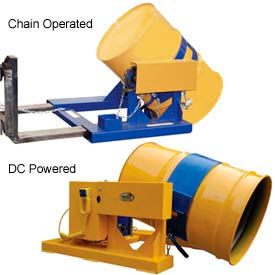 Forklift Truck Drum Carriers & Rotators
Forklift Truck Drum Carriers and Rotators Lift, Rotate and Dump Drums from the Seat of a Fork Lift.

Forklift Truck Drum Carriers and Rotators are made of steel for long lasting durability. Units allow easy transport and rotation of 55 gallon steel Drums up to 360° from the driver's seat of forklift. Drums are held securely in place by a chain latching mechanism. Safety shroud design protects the operator from moving parts. Includes integral fork pockets and a safety chain to secure the Drum Carrier to the forklift truck. Chain Operated models have a 15' chain with gear-reduction device for simple Drum rotation. DC Powered models offer battery powered Drum rotation. Units include battery, on-board charger and hand-held control with 20' coil cord for effortless Drum rotation. Wireless remote and other accessories also available. Capacities range from 800 to 2,500 lbs.