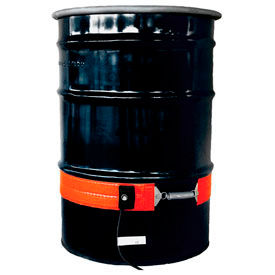 Drum Heaters
Expo Engineered and BriskHeat Steel and Fiberglass Drum Heaters

Expo Engineered Electric Drum Heater are constructed of Tteel with Thermostat Control with Three-Heat Switch melts or heats fluids in pails or drums with good heat receptivity. Thermostat bulb senses temperature in an area remote from the heating element. Three-heat switch allows three wattage ratings per thermostat setting and voltage rating. Includes fiberglass insulation, neon pilot light and 6' power cord. Aluminized steel belt with toggle clamp. Not recommended for fiber or fiber-lined drums. Units are not moisture- or explosion-proof. UL listed and CSA certified.

Briskheat Drum Heaters are constructed of Fiberglass and can fit steel drums between 11" and 22.5" in diameter, for a capacity of between 5 and 55 gallons. Units available in 120 or 240V and between 300 and 1200 Watts.