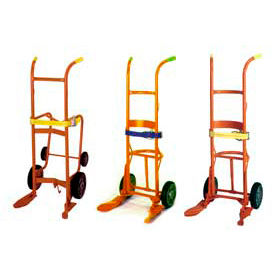 Drum Trucks for Poly & Fiber Drums
Drum Trucks For Poly (Plastic) and Fiber Drums Are Suitable For Material Handling Applications Such As 30 and 55 Gallon Drums.

Drum Trucks for Poly (plastic) and Fiber drums are designed with a 1" diameter structural pipe frame with double welded joints to provide lasting support and durability. Special wide feet cradle and protect the drum from punctures. Drum gallon sizes are 30, and 55. Wheel types are polyolefin, polyurethane, and rubber. Wheel diameter is 10". Weight capacities and dimensions vary per model.