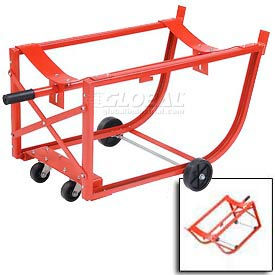 Heavy Duty Drum Cradles
Heavy Duty Drum Cradles Provide Easy, One-Person Loading for Fast and Efficient Material Handling.

Heavy Duty Drum Cradles roll flat for transport and tilt for easy removal and positioning. Solid heavy gauge steel and angel iron construction provides lasting durability and dependability. Load and lift capacities range from 500-1000. Available Drum gallon sizes range from 15 to 55. Wheels and a retractable handle provide easy mobility. Cradle construction is angle iron and steel. Wheel types are made of polyolefin, rubber, steel and zinc. Other dimensions vary per model.