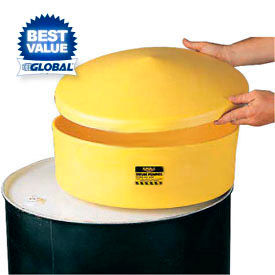 Oversized Drum Funnels
Oversized Drum Funnels Cover the Entire Drum Top for Spill Proof Draining and Pouring.

Oversized Drum Funnels are made from high quality materials to provide long lasting durability and chemical resistance. Molded ridges or channeled surfaces direct liquids into the Drum for efficient filling. Raised sidewalls minimize splash back and increase protection. All Funnels fit 55 gallon Drums; some also fit 30 gallon Drums. Integrated or Optional Drum Covers keep out dirt and contaminants. Construction materials include Polyethylene and Steel. Diameters range from 10-3/4" to 28". Heights range from 3-1/4" - 11-1/2". Additional specifications vary per model.