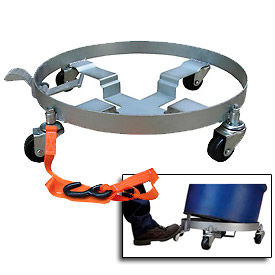 Tilting Drum Dollies
Tilting Drum Dollies allow the user to Tilt the Drum 10° for Better Liquid Extraction when utilizing Drum Pumps or similar devices.

Durable steel Tilting Drum Dolly works with 55 gallon steel, plastic and fiber Drums. Dolly includes a 4'L nylon pull strap with a steel hook for easy portability. Drum Tilting Dolly is highly maneuverable with four swivel casters. Patent pending.