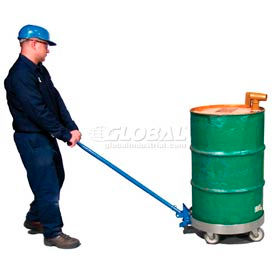 Morse® Clamp+Go™ Drum Dolly Handle
The Morse® Clamp+Go™ Handle helps Prevent Accidents when Moving Drums!

This unique Morse® Clamp+Go™ Drum Dolly Handle increases worker safety when moving Drums. Simply attach the device to the sidewall of your Drum Dolly by pushing downward to engage the quick-coupling mechanism, and you can Pull or Push the Drum throughout your facility. Perfect for moving Drums into and out of confined areas. The Drum is far more stable when using the Handle, as the user applies an even force below the Drums center of gravity, not at the top of the Drum, which reduces the risk of the Drum tipping over. Use of the handle is especially beneficial when Drums are required to be moved over uneven floor surfaces, as the operator pulls from the bottom of the Drum where the weight is far more evenly distributed on all Dolly wheels. The Dolly Handle also reduces the risk of the operator catching his fingers between the Drum and other objects. To release the Handle, the operator simply uses his steel-toe boot to disengage the clamp from the Dolly. Handle also features a magnet to hold the Handle vertical for convenient storage. Clamp+Go™ offers a quick-release pin that allows use with most round steel Drum Dollies with 2", 2-½" or 3" high Drum retaining rings.