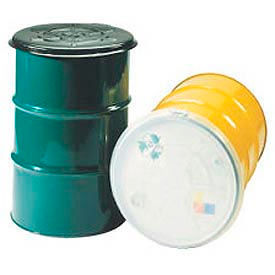 Polyethylene Flat Drum Covers
Polyethylene Drum Covers Protect 55 Gallon Drum Tops in a variety of Industrial Environments.

Polyethylene Drum Covers are made of dirt, moisture, corrosion and UV light resistant polyethylene for long lasting durability and dependability. Covers fit 55 gallon Drums to keep out debris and protect Drum Tops and withstand palletized stacking. Available for both Open and Tight (Closed) Head Drums. Clear Lids allow easy reading of labels without removing the Cover. Package quantities are 1 and 25.