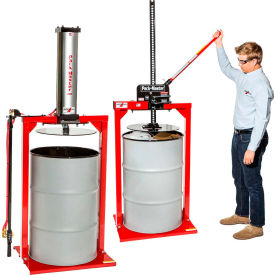 Newstripe Pack-Master™ Trash Compactors
Newstripe Pack-Master™ Trash Compactors Reduce Drum Disposal and Storage Costs.

The Newstripe Pack-Master™ Waste Compactors are easy and safe to use. Simply place a 55-gallon drum on the platform base and material is compacted by the ¼" thick x 20" diameter steel pressure plate. Compactors are constructed of all-welded structural steel with industrial grade components for long life. 18 Month Limited Warranty.

Pack-Master™ Compactor compresses material by the hand-operated ram lever. Unit offers up to 4000 lbs. of force with a compaction ratio of up to 4:1.

Pack-Master™ Air Compactor operates on 8 CFM of shop air. The two-handed safety lever with joystick keeps the operator safely out of harms-way. Compaction cycle is just 30 seconds with 100 psi air supply. Commercial-grade 6" dia. x 24" stroke air cylinder features an oversized 1-¾" dia. piston rod for durability. Unit offers 2600 lbs. of force @ 100 psi and 3900 lbs. of force @ 150 psi.

Pack-Master™ Spark Resistant Air Compactor offers the same features as the standard Pack-Master Air Compactor with all contact surfaces covered in aluminum for safe spark resistance.