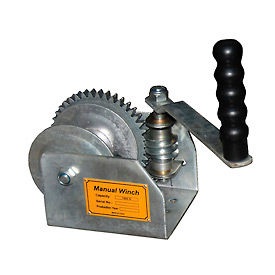 Wall Mount Hand Winches
General Duty Winches are designed for Vertical Mounting applications.

Wall Mount Industrial Hand Winches can use a Wire, Rope, Cable or Web Strap (not included) in applications requiring safe, controlled movement of heavy loads. The reel automatically stops when cranking is stopped; there is no free-wheel mode and no mechanism to stop gear movement. Zinc-plated steel worm gear drive and a pinion gear shaft with lubricated bushings ensure smooth operation and long life. Available in Single-line or Dual-line drum styles.