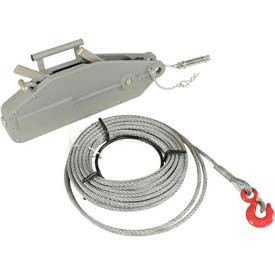 Long Reach Cable Puller
Long Reach Cable Puller is used for Applications Requiring Pulling Over Long Distances.

Cable Winch pulls up to 60' without unhooking and resetting as when typically using conventional lever or hand chain hoists. Puller includes a Steel Hook with a Safety Clasp. Long Reach Horizontal Cable Puller features a 7/16" diameter cable.

Note: Not for use in Vertical lifting applications.