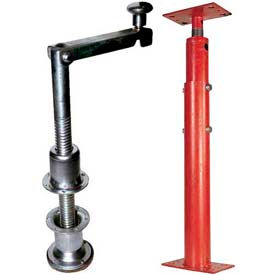 Leveling Jacks & Basement Floor Jacks
Leveling Jacks are designed for permanent installation. Screw-style jack holds platforms and other equipment in place and stabilize them at the required height. Simply drill a 1-¼" diameter hole through the platform to be leveled and bolt the platform between the upper and lower flanges of the Jack's divided housing. Leveling Jack has an 8-½"L handle that folds down when not in use. 3-7/8" diameter swivel base features a slip-resistant rubber pad on the bottom. Screw diameter is 1-¼" and lift rate is ¼" per crank revolution.

Basement Floor Jacks provide extra support for leveling/stabilizing floor beams and joists during construction and repairs. Telescopic-style Jack features removable pins to allow you to properly position the brace for improved leveling. End pad includes a screw and turning bar for easy height adjustment. Rugged all-welded steel construction has a durable red-oxide finish.